Free UK Shipping over £180 | free wordlwide shipping over £300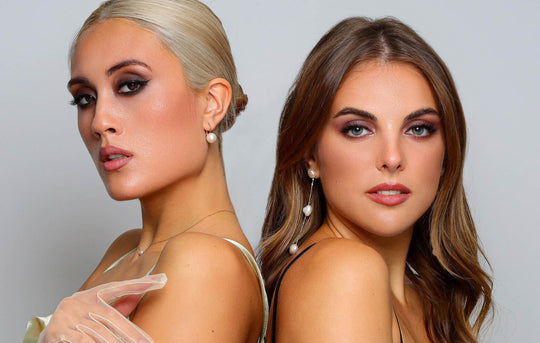 Lustrous and beautiful, pearls have long been one of the world's most highly coveted gems. The oceanic treasures are renowned for their moon-like gleam and harmonious shapes. They adorned the ears, necks, and hands of royals and aristocrats for centuries, but over time their reputation began to change.
As new jewellery trends showcased different gems and placed a higher emphasis on precious metals, the elegance of pearls began to be associated with older generations. Luckily, a new wave of jewellery designers and fashion stylists are proving that pearls are more relevant than ever. With a few simple tweaks and upgrades, pearls can make you look young, stylish, and undeniably chic.
If you've ever been sceptical about pearl jewellery or are convinced it isn't for you, be prepared to have your mind changed. Below we're sharing all the ways you can style pearl jewellery without looking old-fashioned!
1. Mix Different Varieties Of Pearls
In decades past, the preferred variety of pearl was the perfectly symmetrical round pearl. Nowadays fashion lovers are embracing all of the gorgeous shapes that pearls naturally come in, from the eye-catching baroque to elongated drops and ovals. As a result, round pearls can feel a bit dated if worn on their own. Opt for different pearl varieties that show off the diversity and unique beauty of this enchanting gem. Baroque pearls are especially on trend at the moment. Their organic shape and fluid lines are perfectly imperfect, creating an almost avant-garde feel.
2. Opt For Single Strand Styles
Another trend that has passed is the multi-strand pearl necklace. This style was linked to the 20th century and can feel old-fashioned today, especially if the featured pearls are large and round. Bring pearl necklaces into the new millennium by choosing delicate, single-strand styles instead. Continuous strands feel more current when woven with small freshwater pearls, or when mixed varieties are used. Look for styles with a striking variety of shapes and textures, such as a row of small freshwater pearls contrasted against a single large baroque pearl.
3. Choose Contemporary Designs
Pearls only look old fashioned when they're used on designs from the past. They look incredibly chic when used to embellish contemporary, on-trend styles. Look for styles that weren't traditionally made with pearls, such as lariat necklaces, hoop earrings, or mixed texture drop earrings.
4. Add In Different Metals & Gems
Women of the past would make pearls the sole feature of their jewellery look. Their continuous rows of pearls and studs would hide the backing metal and wouldn't feature any other type of gem.
Nowadays mixed metals and gems are not only acceptable, they're encouraged. Pearls can be the main feature of your jewellery, but choosing styles with other accents adds in an unexpected twist. A mixture of textures creates a richer and more visually interesting look, which exudes modernity.
Your mixed look can be as simple as a pearl pendant on a gold chain, or an earring featuring both pearls and crystal gemstones. Match gemstone and pearl colours to create a cohesive feel, such as white pearls and white topaz. If you're working with a solid pearl piece, you can bring in more texture by layering and stacking other pieces of gemstone or metal jewellery.
 
5. Experiment With Coloured Pearls
Coloured pearls are less common than classic white pearls, which makes them feel fresh and exciting. Add a feminine touch to your look with soft pastel pink or lavender pearls, or be dark and mysterious with Tahitian pearls. The good news is that pearls are naturally available in almost any colour of the rainbow, so there is a pearl out there for every aesthetic and colour palette! 
6. Don't Be Afraid Of Everyday Pearls
Pearls were once thought of as formal gems only, but modern pearls can absolutely be worn with casual outfits. Keep the pearl pieces subtle, such as simple stud earrings or pendant and choker necklaces so they don't look out of place for casual occasions. Choosing small freshwater pearls in organic shapes creates a laid-back, ocean-inspired feel that works perfectly for the daytime.
You can make the most out of your pearl jewellery by choosing transformable styles that work day or night. Seek out stackable earrings that can be made short for day or elongated for the night, or movable necklaces that easily transition from pendant to lariat for maximum versatility.
7. Be Extreme With Lengths
Prim and proper pearl jewellery always tends to be medium length - not too long, and not too short. This means that pearl jewellery that doesn't fall in either category looks more alluring. Opt for short styles such as chokers, which have long had edgy associations, or extra long designs such as chain necklaces or dangling drop earrings. Choosing these 'extreme' lengths also makes layering easy, so you can introduce other elements that lend an up-to-date feel.
Are you ready to upgrade your jewellery collection with contemporary pearls? Shop our collection of stylish, transformable pearl jewellery today!