Free UK Shipping over £180 | free wordlwide shipping over £300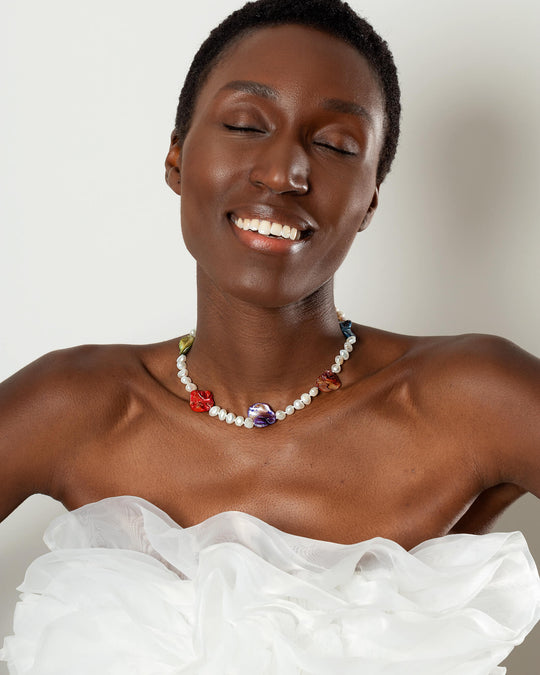 When it comes to summer evenings, choosing the perfect outfit can be a bit of a challenge. You want to look stylish and put together, but you also don't want to be weighed down by heavy fabrics or uncomfortable accessories.
This is where pearls come in. Pearls are the perfect accessory to wear on a warm, summer evening, as they add a touch of elegance and sophistication to any outfit. Here are some fashion tips for wearing pearls :
Keep it simple
When it comes to wearing pearls, less is often more. You don't want to go overboard with your pearl accessories, as it can be overwhelming and take away from the overall look. Instead, choose one or two key pearl pieces, such as a necklace or earrings, and keep the rest of your accessories minimal.
https://pearloir.com/collections/silver-jewellery/products/gianna-keshi-pearl-silver-dangle-transformable-earrings
Choose lightweight fabrics
I bet that during this hot weather you want to be comfortable and cool. Choose lightweight fabrics such as cotton, linen or silk that allow your skin to breathe. Avoid heavy materials such as wool or leather.
Mix and match
Pearls are incredibly versatile and can be worn in a variety of ways. Don't be afraid to mix and match your pearl accessories with different outfits. A simple pearl necklace can look just as chic with a sundress as it does with a blouse and jeans.
https://pearloir.com/collections/gold-and-pearl-necklaces/products/elea-natural-champagne-diamond-pearl-choker-necklace
Experiment with different colors
When you think of pearls, you might automatically think of white or cream. However, pearls come in a variety of colors, from pink to black to lavender. Experiment with different colored pearls to add some interest and dimension to your outfit.
https://pearloir.com/collections/silver-jewellery/products/ariana-detachable-pink-baroque-pearl-silver-chain-necklace
https://pearloir.com/collections/silver-jewellery/products/bubblegum-baroque-pearl-choker-silver-necklace
Dress it up or down
Pearls are a great accessory for both formal and casual occasions. A delicate pearl necklace can add a touch of elegance to a casual summer outfit, while a statement pearl bracelet can dress up a simple black dress for a night out.
Pearls are the new 2023 summer trend. They add a touch of sophistication and elegance to any outfit, and can be worn in a variety of ways. Keep it simple, choose lightweight fabrics, mix and match, experiment with different colors, and dress it up or down depending on the occasion. With these fashion tips, you'll be sure to look and feel your best all summer long.